Product Details
Home
> Products > Wiring Accessories Sockets and Switches >
Click Mode
>
Scolmore Mode 10A 2 Gang Double 2 Way Light Switch White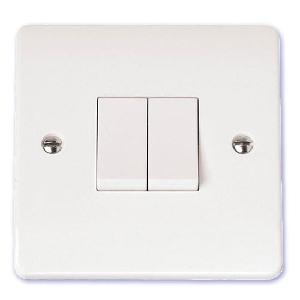 Scolmore Mode 10A 2 Gang Double 2 Way Light Switch White


Scolmore Mode 10A 2 Gang 2 Way Light Switch - White

Standards: BSEN60669
Back Box Depth: 16mm Minimum
Cable Size: 4 x 1.5mm² / 2 x 2.5mm² / 1 x 6mm² Maximum
Dimensions: 86mm x 86mm x 9.5mm

Scolmore Click Mode is a stylish, contemporary & flexible range of Smooth profile wiring accessories with a comprehensive selection of products incorporating the full electrical outlet range from white Electrical plug sockets to white Electrical Light switches. Click mode also have more specialised products dealing with the very latest developments in telephone and satellite products.

MODE Accessories have been conceived and developed as a high quality, flexible and modern solution to virtually any domestic wiring requirement.


Anti Microbial Certified Products
All white moulded and Mode part M wiring accessories are manufactured using Urea Formaldehyde, which has similar inherent properties to antimicrobial additives that inhibit the growth of infectious diseases. All products independently tested achieved a 99.99% kill off rate across all four types of the strains of bacteria - MRSA, E-Coli, Salmonella and Klebsiella Pneumoniae.




Back
Print this page
Wigan:
01942 247654
Macclesfield:
01625 426436
Ormskirk:
01695 570123
Buxton:
01298 70361
Recently viewed products