Product Details
Home
> Products >
Security Camera & Alarm Systems
>
1.3Ah 12V Sealed Lead Acid Rechargable Battery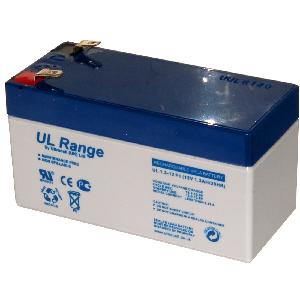 1.3Ah 12V Sealed Lead Acid Rechargable Battery


1.3Ah 12V Sealed Lead Acid Rechargable Battery

12VDC VRLA battery, offering excellent performance, durablity and reliability for Stand-by applications in security systems, Emergency Lighting, Uninteruptable power supplies and more!

•1.3 Amp 12VDC, VRLA
•Sealed Lead Acid- maintenance free
•AGM non spillable construction
•Safety valve.
•Exceptional deep dishcharge recovery
•Low self discharge characteristics
•Robust ABS Container & cover
•Suitable for many 'stand-by' applications including Security Systems & Emergency Lighting
•F1 type faston 'spade' terminals
•Superb performance & durability
•Dimensions: 97 x 43 x 57 mm
•Fully compliant with all relevant standards for sale in EU.




Back
Print this page
Wigan:
01942 247654
Macclesfield:
01625 426436
Ormskirk:
01695 570123
Buxton:
01298 70361
Recently viewed products