Product Details
Home
> Products > Cable Accessories >
Wago Connectors & Junction Boxes
>
Wago 3-Port Lever Cage Clamp Terminal Block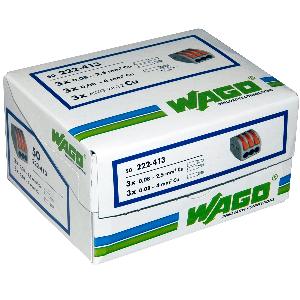 Wago 3-Port Lever Cage Clamp Terminal Block


Wago 222-413 3 Port Lever Cage Clamp Terminal Block 0.08-4.0mm, 32A.
Sold individualy - order 50 or more to get full box discount!

The operation of the 222 series terminals is simplicity itself. The cage clamp inside the connector block is opened by using one of the integrated orange levers. Once in the open position the clamp is ready to accept the insertion of the stripped conductor. Close the lever flush with the body of the connector block and the connection is complete. To remove a conductor simply open the clamp and the connector can be reused. There is a test point in the base of the housing.
This product can be purchased individually or more economically in the 50 piece box.
Part No. 222-413
Conductor sizes
0.08mm - 2.5mm Solid Core & Stiff Stranded Core
0.08mm - 4.0mm Flex
Current rating 32A
Voltage rating 0 - 400V / 4KV
Wago connectors meet the most stringent UK and international standards including the electrical requirements of BS7671 17th Edition.




Back
Print this page
Wigan:
01942 247654
Macclesfield:
01625 426436
Ormskirk:
01695 570123
Buxton:
01298 70361
Recently viewed products