Product Details
Home
> Products > Cable Accessories >
Wago Connectors & Junction Boxes
>
Wago Lighting Connector Pushwire to Cage Clamp, 224-101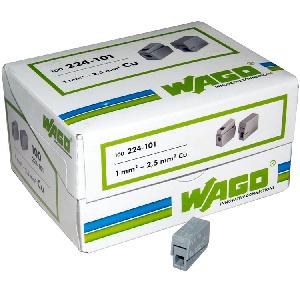 Wago Lighting Connector Pushwire to Cage Clamp, 224-101


Wago Lighting Connector - Pushwire to Cage Clamp,
224-101 (0.5mm - 2.5mm. 24A)

Sold individualy - order 100 to get full box discount!

Wago 224-101 Lighting connector with Pushfit port on one side and Cage Clamp on the other. To use simply push the stripped solid conductor into the pushfit end to make the connection, on the clamp side squeeze the terminal to open the clamp mechanism and insert the stripped solid, stranded or flex conductor into the connector to make the connection.
This product can be purchased individually or more economically in the 100 piece box.

Part No. 224-101
Number of Ports 2
Colour Grey
Conductor sizes
0.5mm - 2.5mm Solid Core
0.5mm - 2.5mm Stranded Core
Single pole commoning terminal
Current rating 24A
Voltage rating 0 - 400V / 4K
Wago connectors meet the most stringent UK and international standards including the electrical requirements of BS7671 17th Edition.



Back
Print this page
Wigan:
01942 247654
Macclesfield:
01625 426436
Ormskirk:
01695 570123
Buxton:
01298 70361
Recently viewed products