Services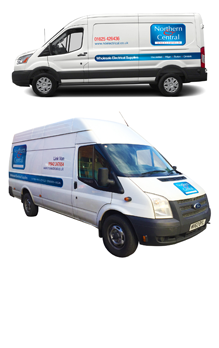 At Northern & Central Electrical we try to cater for all of your electrical needs. Listed below are some of the services we offer to our customers.
NEW... Bespoke engraving service
We can now engrave switches or other wiring accessories with your choice of legend, ask at your local branch for details.
Deliveries
We provide a same day delivery service free of charge for all stock items. Non stock items can be sourced quickly and if required delivered next day.
Prices
Trade prices and prices for your product requirements are available from your local branch. We also provide a competitive quotation service. For more information contact your local branch.
Free Credit Checks
We can carry out credit check on your new customers, boosting your confidence and ensuring healthy cash flow. Contact your local branch for details.
Lamp Disposal
Northern & Central offer a legally compliant & comprehensive lamp disposal service. Our sub-contractors will arrive on site and use specialised machinery to dispose of your lamps & tubes. Formal disposal certificates and environment documentation will be issued.
Test Equipment, Calibration and Repair
Bring your test equipment in to your local branch & leave it with us. We will give fixed quotations, a fast turn around and instruments repaired and calibrated to ISO9001:2000. Certification and test results documentation provided after each service.
Open a Customer Credit Account
Click on the link in the navigation bar, fill in the application request form and click send.
Cable Planning
All branches have experienced staff able to to help determine a project's legal and safety requirements. Contact your local branch for assistance.
Cable Crimp Tool and Cable Jack Hire
For that one off job, crimp tools and cable jacks can be hired on flexible daily rates. Competitive prices, just give your local branch a call.
Emergency Lighting Conversion
Need to convert that fitting, forgot to make allowances on the original plans. No problem, any make of fitting, quality conversion to full emergency spec. Normally completed in 2-3 days.
Lighting Schemes
We have full co-operation with a number of our suppliers e.g. JCC, Illuma, Crompton etc... To provide industrial, office or display lighting schemes. Lumens, lux levels & fitting type & position information provided.
If your requirement is for modular fittings, lo-bays or outside flood lights, give your local branch a call.
Back